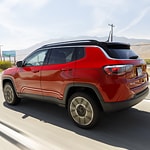 Design engineers had in mind the adventurer in you when they built the Jeep Compass: a lover of style, elegance, and playing in the great outdoors. It is designed for the way you live, work, and play. Working during the week and playing on the weekends, this Jeep Compass was made to fit in.
Your new set of wheels will have you comfortably rolling right along. The 16 to 19-inch wheels come in ten standard aluminum or steel designs. This popular, fuel-efficient SUV wears a Trail Rated badge of honor. Its off-road qualification was earned by passing a series of tests, which means that your adventures into the wild are well within the realm of possibility.
If you would like to try it before you buy it, we feel you should. Come on into Boyd Cars of Virginia in South Hill, VA, and spin those 16-inch wheels around town. Envision how dynamic the ride will be as you are driving in style to work, the grocery store, or to a new off-road adventure.